April 15, 2020
Should your company use Microsoft Teams, for your phone system?
What are the pros and cons?
AeroCom President, Mike Smith, explains what he's seen, first hand. As a long-time, enterprise telecom broker, he's quoted Teams to many companies (as well as every other major hosted PBX vendor).
Some buy it. Others don't.
When do companies buy Teams for their phone system? When do they quote it but then decide another hosted PBX solution is better? Watch the video and find out!
Why haven't you asked Mike for his recommendation for your company? It costs you nothing, so there's no excuse. Stop wasting your time, trying to figure this out, yourself… click the button!
About Mike

Mike Smith is the Founder and President of AeroCom and has been helping companies with telecom and cloud services since 1999. He has been the recipient of numerous business telecommunications industry awards and in 2011, he was honored as one of the top 40 business people in Orange County, CA., under 40 years old. You can also hear him as the host of the popular Information Technology podcast, ITsmiths with Mike Smith. Follow Mike on LinkedIn, Twitter or SpiceWorks.
Transcript
Microsoft Teams PBX, is this a good fit for your company?
You might be asking that. You might have Teams right now and you're thinking your company needs a new Phone System and you're thinking, "Hey, can we just use Teams? We're already using it. It's great. Can we use this for our phone system?"
I can tell you at the time I'm recording this video, which is 2020, it really depends from what I see (in terms of customers that are buying Teams… versus customers that are actually looking at Teams, but then buying another third party hosted VoIP service provider).
A big difference is what Office 365 License your company has today or really needs regardless of your Phone System.
So for instance, if your company has an E3 license or an E1 license and you really have no need for an E5, your company doesn't need Power BI, your company doesn't need any of the encryption or security features, you'd be absolutely fine with E3 other than Microsoft Teams Phone Systems. So the only reason you'd be moving to E5 would be to get the Phone System and conferencing features that are baked in with then Teams Phone System.
…A lot of times those companies look at Teams Phone System and opt to stay with a hosted VoIP provider.
And the reason being is because at that point, Teams Phone System gets pretty pricey.
So you're looking at, (on top of your E3 license or E1 license), you're looking at purchasing an $8 per month per user add on for the Phone System feature. And then you might also be looking at a $4 add on for a conferencing feature for every user. And then you're looking at a Calling Plan on top of all that. So you're looking at close to about $24 per user for Teams Phone System on top of your E3 license.
So at $24 a user, if you're a decent sized company, that's pretty pricey for hosted PBX. You can find a lot of hosted PBX providers at that price point or less who are going to have a much more functional, much more user friendly phone system than Teams Phone System is at this point in time.
Now, if your company has an E5 license already, or your company is looking to go to E5 no matter what, (whether or not you use Teams for your phone system), then Microsoft Teams PBX becomes a lot more interesting. Because at that point, you already have the phone system feature. You already have the conferencing feature. The only thing you're adding is a Calling Plan.
So for instance, if you're getting an unlimited calling plan, (or it's really 3,000 minutes per user, which is essentially unlimited for most companies). If you're getting it for $12… That's $12 per month. So at $12 per month per user (in addition to your E5 that you already have), that's pretty cost-effective, compared to the other hosted VoIP providers out there.
The other hosted VoIP providers are going to be about that price point, but that'd be pretty low. You're probably going to be more about $15 on average per user or above for another third party hosted VoIP provider. So if you have an E5 license, or your company needs an E5 license regardless of the phone system needs, then Microsoft Teams PBX might be a good fit in terms of cost.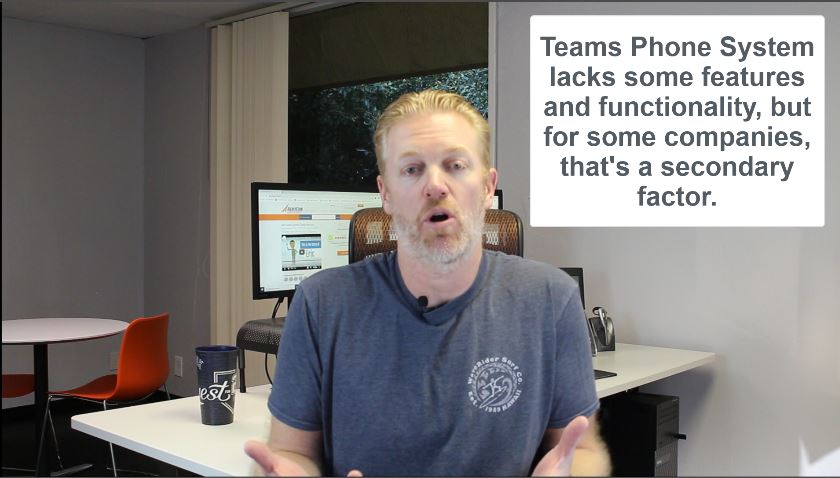 Overall, Microsoft Teams Phone System, we've found is a little less functional than a lot of the other hosted VoIP providers on the market right now. The companies that are going to it, it's either a cost factor like we just talked about, they already have E5 or they're going to E5 anyway, or it's a simplicity factor where Microsoft Teams Phone System is around the same price that they'd pay with other service providers, but maybe they have a couple of thousand or more users in the simplicity of having one app.
Since there are companies already using Teams and liking Teams a lot, and they're using Teams for all their instant messaging and things like that. Just the simplicity of having one app is enough to override the lack of functionality that Teams right now has compared to the other hosted VoIP service providers. So hope that gives you a little bit of insight on how to make the decision of whether or not Teams Phone System is a good fit for your company.
But if you have any questions whatsoever, instead of trying to figure it out yourself, just call me. It'll cost you nothing, so no excuse. Shoot me an email, give me a call (at 714-593-0011). I'm happy to help. We deal with this every day with a lot of customers. I'm happy to give you my recommendations based on your company's exact situation.