October 24, 2020
If you're looking at Microsoft Teams Phone System for a replacement for your company's current PBX, then you've probably noticed there is a lot of confusing offers being thrown around.
There are actually 5 primary ways your company can deploy Microsoft Teams Phone System.
In this short video, Mike Smith reviews each of the 5 deployment options, and provides the advantages and disadvantages of each.
Which deployment option… and which vendor should your company be quoting? Click the button and ask Mike today.
About Mike

Mike Smith is the Founder and President of AeroCom and has been helping companies with telecom and cloud services since 1999. He has been the recipient of numerous business telecommunications industry awards and in 2011, he was honored as one of the top 40 business people in Orange County, CA., under 40 years old. You can also hear him as the host of the popular Information Technology podcast, ITsmiths with Mike Smith. Follow Mike on LinkedIn, Twitter or SpiceWorks.
Transcript
Okay. So your company is looking into Microsoft Teams for your phone system. Maybe your phone system is end of life and you guys are starting to use Teams and you're thinking, hey, why don't we use this for our phone system? I heard we can do that. Well, you're not the only one to be thinking that's a very popular sentiment right now. And a lot of companies are reaching out to us and asking us that same question. So I thought I'd make a video on it.
Well, there's a lot of different ways you can do this, but it all stems from, first and foremost, number one, Teams Phone System, as you may have heard, doesn't have every single feature functionality your company may need. So it's lacking a little bit. It doesn't have a call center capability. It doesn't have advanced reporting. So there's some things that are missing from it.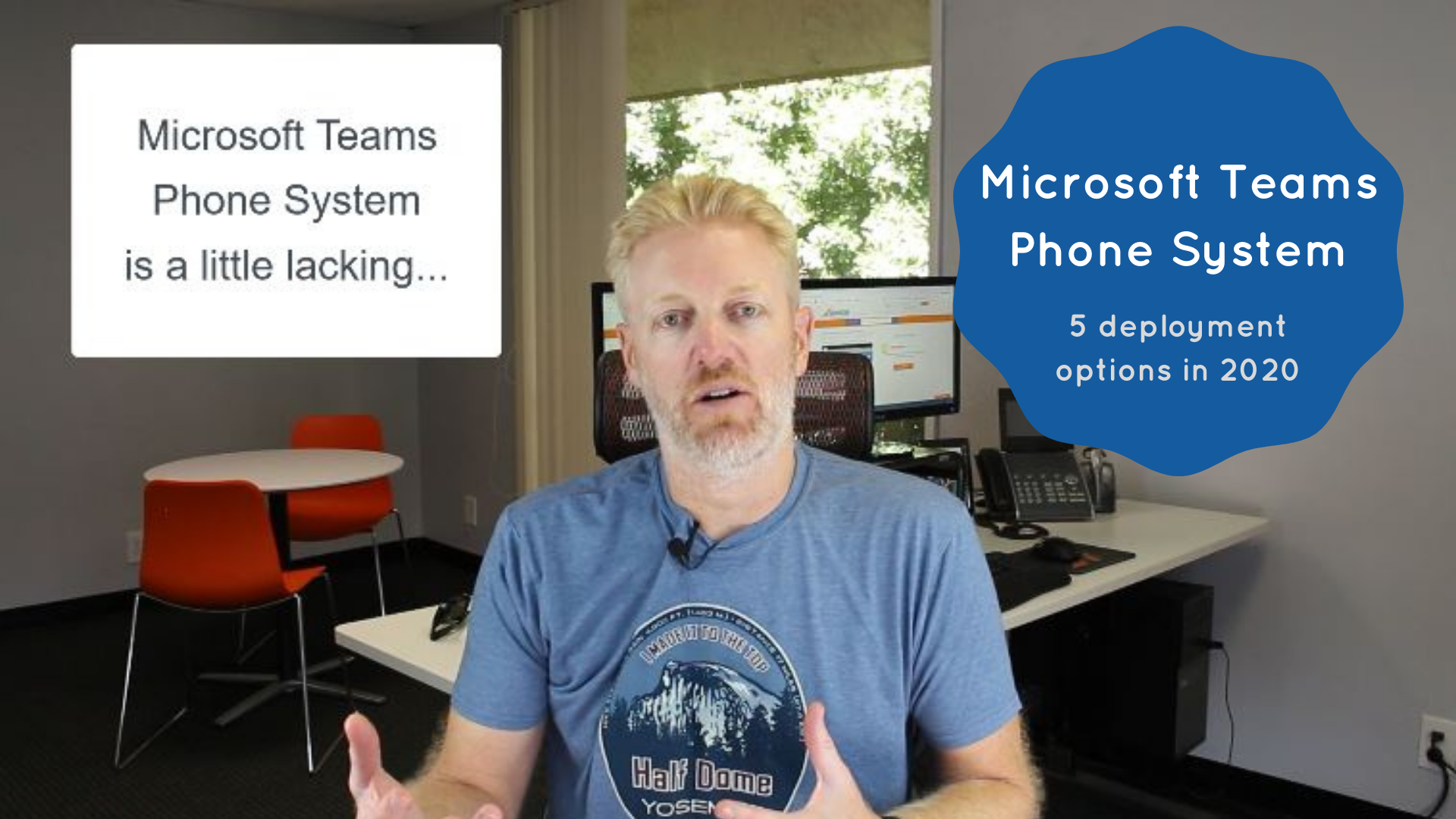 There's a lot of convenience to it. You get one app for everything if you're using Teams for collaboration and unified communication and conferencing. It's cool, you can use that for your phone system too. But there is a little bit of a downside. It's lacking in some ways. So because of that, there's all different types of ways companies are integrating with and using Teams for their phone system. So I wanted to make a quick video and break down some of these ideas of what's going on out there in late 2020.
Okay. So there's really five different ways. Five main ways in my mind that your company can deploy Microsoft Teams as your phone system. So number one would just be a simple integration with a cloud PBX service provider using a click-to-dial. So whether it's WebRTC or some way they're doing it, it's you go out and you buy a cloud PBX service provider for your company's phone system that has a Teams integration that allows you to, once you're within Teams you can click-to-dial, you can maybe right click on a contact within Teams and it'll give you an option to call that person using your cloud PBX service provider.
The downside of that is if an incoming call comes in, it's going to pop up your cloud PBX service providers softphone, it's not going to pop Teams. So this type of integration only works with outbound calls through Teams. The cool thing about that integration though, is you don't have to pay the $8 per month per user for the Teams Phone System feature. You're only paying for the integration from your cloud PBX service provider. So it's an inexpensive way to have a little bit of functionality while you're using Teams to still be able to make calls pretty easily from within Teams.
The second way companies are deploying Teams Phone System is what I call the best of both worlds scenario. It's an integration with Microsoft Teams Phone System, typically fueled by an application called Call2Teams, and that's the number 2. Call2Teams. So cloud PBX service providers out there, what they did is they've partnered with Call2Teams, and they're white labeling that solution within their solution. And what that solution does is it allows you to use your cloud PBX service provider's features and functionality. So you're using their platform for call flow, for features, all that stuff, but you're using Teams as your softphone. So Teams is the user interface, is the end user interface, so it's the best of both worlds. You're getting Teams as your interface, which is what you want for incoming and outgoing calls, but you're doing all your call flows and all your features from your cloud PBX service provider.
So you're not lacking any features or functionality. You're getting everything that you want, and you're also using Teams. So that's the best of both worlds. That sounds great, right? The only downside is that it's the most expensive option out there. Because to do that, to use Teams for your company's phone system, you have to pay Microsoft the $8 per month per user fee for Teams Phone System to activate that feature so you can use Teams as your phone system, and you're having to pay your cloud PBX service provider per user for their solution as well. So really, almost paying for both solutions at the same time.
I'd say it's like, you're paying about 1.5 times for your cloud PBX solution. But some people like it because they want both and they need both. They need the functionality and they need to use Teams. Maybe they just absolutely want a single app no matter what, but they do want the functionality. So that's the second way to do it.
The third way your company can deploy Microsoft Teams as a phone system, is you can simply go to Microsoft and purchase it. Purchase the Teams Phone System application, and you purchase a calling plan for every user that needs Microsoft Teams Phone System. So it's a per month per user feature for the phone system. It's a per month per user calling plan that you pay for, and then all the dial tone is coming from Microsoft directly.
The fourth way to do it is, you go to Microsoft directly. You purchase the phone system feature from Microsoft directly, and you use direct routing to pull dial-tone from your site on-prem. So maybe you have some SIP trunks. You connect the SIP trunks to an onsite SBC at your site, and you use your SIP trunks or your analog lines or your PRI, and use that dial-tone from your on-prem phone lines to fuel your Teams system. So, that would be on-prem direct routing is what I would call that way to do it.
And finally, the fifth way to deploy Teams is you go to Microsoft and you purchase their phone system feature to use Microsoft Teams as your phone system. But instead of purchasing the calling plan from Microsoft directly, you purchase the calling plan from a third party VoIP service provider. So what I call this way, it's called direct routing as a service. So it's kind of combining the calling plan option and it's combining the direct routing option, but instead of you doing direct routing at your own site with your own SBC and your own dial tone from your own SIP trunks, you're having a third party VoIP provider do direct routing for you. So they're using their dial tone. They're controlling the SBC. So they're controlling call quality and all that stuff so you don't have to.
So you're going to Microsoft and you're purchasing the phone system, and then you're purchasing the calling plan through a third party VoIP provider. This really is a very popular way to do it. It's the way a lot of our customers are doing it. And the advantage of doing it this way is you don't have to have your dial to an onsite, which is kind of a mess. You don't want to have to manage your own SBC and manage call quality, and have everybody funneling into your site and dependent on your site's dial-tone all the time. You can offload that to a third party and just pay them for the calling plan.
The nice thing is it's the same cost or less than buying the calling plan from Microsoft directly. And on top of that, you don't have to use Microsoft for your customer service for the phone system. So you call that third party if you have one dial-tone issues or things like that, and you're going to get much better support from them than you would trying to work with Microsoft direct. Because we all know Microsoft is not really known for great hands-on customer service, and you really need that when it comes to a phone system. So that's probably the most preferred method that we've seen customers adopting, is that fifth method where I call it direct routing as a service.
So, hope that helps a little bit. Which is the best scenario for your company? Don't try to figure this stuff out on your own. I know the video was helpful a little bit, but just reach out, contact me, call me (714-593-0011), shoot me an email. I'm happy to ask you a few questions about your company, learn more about your requirements and tell you the best four to five or so service providers that I'd recommend your company quote, and which of those Teams Phone System solutions I'd recommend and why. And I'll also introduce you to the best people at those service providers who you really want to work with.
So as a broker we work with all the solutions out there, all the different vendors offering this stuff, so our job is to get you to the right solution faster. And when you find the right solution, they pay our company our broker fee. So bottom line is, you don't have to pay us anything and we help you get to the right solution faster. So there's absolutely no excuse not to call me, shoot me an email, ask me some questions. I'm happy to help. I love talking about this stuff. And I hope this video was helpful. Have a great day and I'll catch you on the next one.